Exclusivo desde Nueva York! Estuvimos presentes en el primer desfile «flotante» de Jessica Minh Anh con vistas panorámicas de la Gran Manzana.

La modelo y empresaria Jessica Minh Anh es conocida por combinar moda, arquitectura y cultura.
«Celebramos la diversidad, fuerza y poder de las mujeres a través de las creaciones de las modistas minuciosamente elegidas.» Jessica Min Anh
Nuestro #ChicoGuapo Yoneiry nos muestra el desfile desde la primera fila y nos cuenta acerca de los diseñadores elegidos, ¡increíble show!
About the designers
Accessories Designer: Cristina Sabatini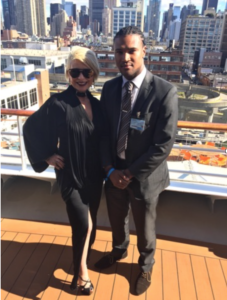 Cristina Sabatini is an innovative and passionate artist who has spent her life defining her aesthetic and expanding her worldview.
Cristina began her career in apparel design as a teenager, and her success led her to open several high-end boutiques in Brazil before moving to New York to pursue her passion for jewelry design. Her unique perspective and entrepreneurial spirit have made Cristina Sabatini's pieces sought after in dozens of countries, and her influence in the industry continues to grow. Her bold, vibrantly colored designs are heavily inspired by her travels across the globe, witnessing firsthand the beauty of both nature and human achievement through classical art and architecture.
Cristina has been formally trained in the art of jewelry design and the techniques applied in creating the finest handcrafted pieces. She works with a diverse, dedicated team of artisans to ensure that every piece she designs lives up to her uncompromising standards. With the success of her distinctive jewelry line, Cristina's brand has now expanded into a line of handbags and accessories.
Link to her website: http://www.cristinasabatini.com/
Designer: Rouba G.: "Romancing False Truths" Collection
Rouba G. graduated from Conde Nast College of Fashion and Design, England, holding a Vogue Fashion Certificate; both her degree and vigorous devotion for fashion compelled her to dive headfirst into the industry, only to be rejected-more than once-for being too audacious and offbeat.
This was what initiated the brand; that dissent was the inauguration and the birth of Rouba.G, officially introduced to the world in 2015.
Challenged to push the boundaries, possessing a singular style and key prowess necessary to flourish in the industry, having enough experience enabling the enhancement of individual profile, Rouba.G has a message to convey through every single collection. The designer does so by transforming everyday mundane concrete objects and ideas into magnificent garments. She merges top level technical expertise along with her aesthetic finesse and the result is ethereal.
Fashion, as a whole, is a cycle of trends that comes and goes. However, woman's sense of individuality and oneness shall remain; that is the message Rouba.G wishes to project- and promises to!
The designer emphasizes on fantastically detailed embroidery, fabric customization in the Ready-To-Wear, Bridal and Haute Couture.
The collections embrace womanhood, femininity and all her supremacy. Each and every piece portrays woman's independence and grace, expressing her individuality, celebrating her inner Goddess and thus signifying the brand's unique style. On the other hand, the lavish and sumptuous collection is also prolific in daring and dancing colors. Powerful women dare to wear colors!
Link to her website: http://roubag.com/
Designer: Teresa Rosati
Teresa Rosati is a leading Polish fashion designer specialized in creations cocktail, evening and bridal dresses. Its debut in 1998 was a great success, which led it to create their own fashion brand under the name Studio Mody Teresa Rosati.
The designer is involved in both Polish and foreign fashion shows. At the beginning of his career he represented Poland m. In. Eisenach on the occasion of Days of Cultural Cooperation Polish-Italian-German and International Fashion Fair in Leipzig.She presented her collection on the occasion of the 300th anniversary of St. Petersburg. As the first Polish designer was invited to Athens and Paris, where he presented a collection «Fashion and film – mutual inspiration» for the members of the international diplomatic community.
In 2005 he was invited to Milan, as guest of honor during the demonstrations collection of top Italian fashion houses, where he presented his collection «All the Colors of Europe.»
In 2010, she received a standing ovation after the presentation of his collection «The Universe of Women» at the Beverly Hills Fashion Festival in Los Angeles. After this event, he was invited to the prestigious Oscar Designer Challenge, and then presented his collection at the Cannes Film Festival at the Hotel Carlton in 2011. In the same year she took part in the Fashion & Beauty Week in West Orange, New Jersey, and a year later in Nolcha Fashion Week in New York and Vancouver Fashion Week. Collection Spring / Summer 2014 designer presented in Warsaw Royal Castle in the Kubicki Arcades. In May 2014 she was invited with his authorial collection at Miami Fashion Week, and in the end of September 2014 during Paris Fashion Week at the Marriott Hotel on the Champs-Élysées presented her latest collection «The Bacall Look», inspired by the star of American cinema – Lauren Bacall.
Link to her website: http://teresarosati.com/
 Designer: Elisabete Reis: "Debaj Collection"
Debaj is dedicated to presenting high-end islamic clothing to all fashion lovers of the world. We specialize in creating one of a kind, hand made Luxury Islamic Abayas for ladies of all ages according to each clients preferences. Our pieces are made by well known designer Ms. Huda keeping in mind our clients taste and preferences and working together with a team throughout the entire processes to create pieces that are unique, elegant and timeless.Debaj started a few years ago and was re-branded in November 2012 quickly becoming noticed by big names such as The Luxury Network and Design Creationz.
Debaj's very first photo shoot, on October 17, 2012 was in the glamorous presidential suite of the St. Regis Hotel-Doha.In December 2013, when The Luxury Network invited Debaj to become a partner due to the brand's striking success and luxurious standards. We put on our first event as partners at the Rizon Jet Terminal which provides private/chartered luxury flights from the Middle East.At the event, Debaj proudly launched the Princess Sahab bint Abduallah collection authorized by Princess of Saudi Arabia herself.
Only two months later on the catwalk of Luxos, Debaj displayed her flawless Spring/Summer Islamic Line.Luxury made for Qatar, on June 1st, 2013 once again joined partners – Debaj and The Luxury Network – at The Crown Plaza Hotel in Doha, launched the glittery evening collection and this time six limited edition pieces became the sparkle of Doha's eye. The Oriental Limited Edition line.
Most recently, in July 2013 and 2014, at the elegant Laha Trunk Show, Qatar, Debaj showcased Autumn/Winter13 and Spring/Summer'14 to a select group of VIP and VVIP invitees. As a creative designer Huda presented SS14, inspired from Marakkech School of Art and culture, the collection describes the story of art school in ancient Marakkech civilization which has successfully perfected the art of expressing herself using that creativity.
In February 13-22, 2014, we presented our SS14 in IFS2014 (International fashion week 2014) beside London fashion week and In March 2014 we participated in Vogue Harrods Festival 2014 at South bank center, Queen Elizabeth Room.
Growing up artistic is something Debaj's owner knows well and lately she sketched for Autumn/Winter'14 a beautiful Parisian Collection showcased Debaj Girl in Paris at the most beautiful Iconic Eiffel Tower with Global Fashion organizer, J Model Management.
Debaj Collection is proud to present its Autumn Winter'15 Parisian Collection debuting in Paris for the first time and the very first catwalk on the top of the Eiffel Tower on Friday 31st October 2014.
Debaj Collection, Luxury Abaya Designer, Huda with a love of Parisian nature showcased outside Middle East for the first time. Her Beautiful collection made up of 15 exquisite hand made capes and abayas inspired from Parisian Floral Art with the finest French Velvet , Italian Organza and Crepe duchesse.The floral art on chic velvet and finest organza fabric embellished in different colors, inspired from French gardens, mixed with Oriental touch to present a unique and sophisticated look were more exciting for french fashion world. This exclusive Parisian art of Huda,will give the feelings of French elegance and class in French fashion world. AW'15 collection which has been showcased on Eiffel tower were photo shooted on Parisian beautiful and historical backgrounds of Four Season George V, and added the outdoor view of Arch de Triomphe, Louvre Pyramids, Alexandre Bridge III, Fountain La Concorde and the Iconic Eiffel Tower.
Debaj Collection always choose unique and finest quality of material for each pieces of abayas with creative art and inspiration. Recently in Florence, Debaj collection Spring Summer'15 Baroque collection inspired from Italian Historic Art were photo shooted at Four Seasons Hotel, Firenze, Italy.
The name Debaj has become synonymous with, exceptional quality and tradition and glamorous fashion. Because of the exclusive designs and it's patent pending method of fabric tailoring, each abaya is not only made to order and to fit like a glove but tailored to it's owner and brings with it the feelings of elegance and excellence infused with class.
Link to her website: http://www.debajcollection.com/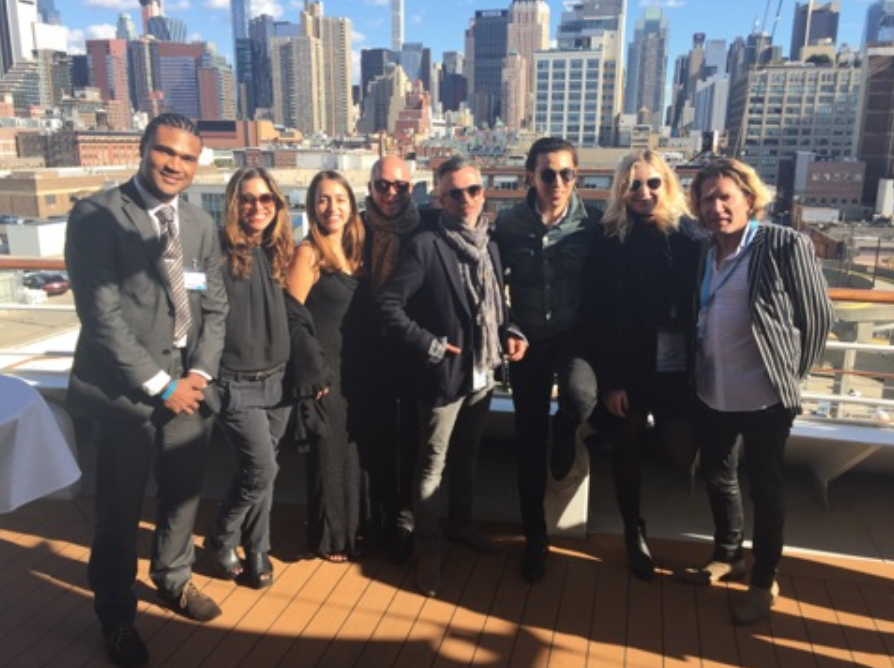 Hair Stylists: Nicole Eventoff, Karina A. Herrera, Nathanial Torres, Xavier Grange, Jerome Lordet, Crystal Tushinsky, David Cotte Blanche
Makeup Artists (Not Pictured): Chainelle Molina, Katrina Corral, FacesByCarmilla, Denalyn Quinones, HeatherAnnMakeup